In Grade 9 Language and Literature, students are introduced to two unit which build foundational skills in the following: close reading; text annotation; academic discussion; and note-taking. While the aforementioned advances the curriculum - students dive into their study of Narratives; whereby, students learn about the essential component of storytelling by closely examining and commenting on classic short stories from an international survey of acclaimed authors. This study culminates in the students' exploration and development of a graphic novel based on a story of choice.

Following, unit two, entitled Persuasion, offers students opportunities to sharpen their identification of rhetorical devices and appeals that readies them reading the likes of short stories, e.g. Roald Dahl's "The Lamb to the Slaughter" in which students take firm stances defending characters. Additionally, students will study and analyze the techniques of master orators like Dr. Martin Luther King and Mother Theresa. In the spring, students are introduced to the works of Williams Shakespeare with an emphasis on his sonnets and Romeo and Juliet where students begin to hone their written task skills for grade 10. The year ends with the Identity and Self Expression Unit where students learn how to annotate, analyze, and compose poetry.
Powered by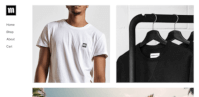 Create your own unique website with customizable templates.